(One intermediate revision by one other user not shown)
Line 2:
Line 2:
 

__NOTOC__

 

__NOTOC__

 

[[File:2017holiday1.jpg|right|300px]]

 

[[File:2017holiday1.jpg|right|300px]]

 
+

As the year comes to a close, celebrate the occasions that made you smile, the dreams that moved you and the wishes that made you hopeful. Every joyful moment in life becomes a sparkling memory in our hearts. '''Holiday Barbie® doll''' is adorned with a gleaming star to commemorate all those wondrous moments—the perfect complement to her festive red metallic gown and dangling earrings. May your 2017 Holiday Barbie™ keepsake inspire you to dream bigger, live boldly and always shine brightly. For ages 6 and over.

−

Description TBA

 
 
 
 

==Product Number==

 

==Product Number==

Line 8:
Line 8:
 
 
 

==Release Date==

 

==Release Date==

 
+

8/1/2017

−

TBA

 
 
 
 

==Collection==

 

==Collection==

Line 16:
Line 16:
 

Carlyle Nuera

 

Carlyle Nuera

 

[[Category:Right arm bent]]

 

[[Category:Right arm bent]]

 
+

[[Category:Millie Closed Mouth face sculpt]]
---
Latest revision as of 16:08, 2 August 2017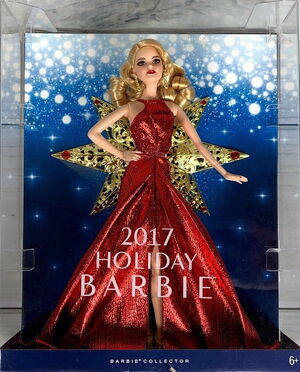 As the year comes to a close, celebrate the occasions that made you smile, the dreams that moved you and the wishes that made you hopeful. Every joyful moment in life becomes a sparkling memory in our hearts. Holiday Barbie® doll is adorned with a gleaming star to commemorate all those wondrous moments—the perfect complement to her festive red metallic gown and dangling earrings. May your 2017 Holiday Barbie™ keepsake inspire you to dream bigger, live boldly and always shine brightly. For ages 6 and over.
DYX39
8/1/2017
Holiday
Carlyle Nuera
Community content is available under
CC-BY-SA
unless otherwise noted.