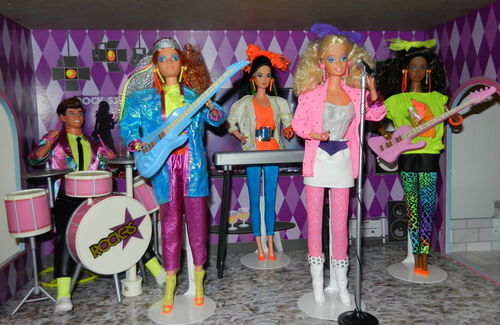 Barbie® and the Rockers were released in 1986 in the US. A second line came out the following year, gaining Ken and "real dancing action" (in the female dolls) at the cost of their unique wardrobes. In Europe, the original Rockers were available under the name Barbie and the Rock Stars. Other countries, particularly in South America, released dolls that differed significantly from their US counterparts. Brazil saw several subsequent doll lines that took the 80s pop aesthetic and ran with it.
The name in parentheses next to each country is the Mattel licensee that produced the dolls. The years represent the "box date" of each line, typically the year before they hit the shelves.
United States
[
]
Rockers ©1985
[
]
Rockers ©1986
[
]
Argentina (Top Toys)
[
]
Rock Stars ©1985
[
]
There is a Barbie variant with pink tights and no logo on the top.
Venezuela (Rotoplast)
[
]
Rockers ©1986
[
]
The Diva shown above is very similar to the US version, with different fabrics used for the coat and pants. A unique Diva outfit has been found in two different color schemes: Variant 1 and Variant 2
Brazil (Estrela)
[
]
Em Ritmo de Rock ©1986
[
]
"Em ritmo de rock" translates to Rock Beat. In Brazil, Barbie's boyfriend was called Bob prior to 1987.
Roqueiros ©1987
[
]
New Wave ©1988
[
]
Rock Stars ©1989
[
]
These dolls were also influenced by Barbie and the Sensations, a line which was released in late 1987/early 1988.
Peru (Basa)
[
]
Rockers (year unknown)
[
]
I only recently found out about these dolls. There were versions similar to Rocker Barbie from Venezuela with different colored jackets and tights (see red variant and blue variant). The only significantly different outfit I am aware of is shown above. There was also a Rocker Ken in a unique outfit (no box or liner photo available).
Promotional
[
]
Estrela catalog scans courtesy of Ana Caldatto
Fashions
[
]
Two sets of fashions were released in the US, coinciding with the two waves of Barbie and the Rockers. Here is a Flickr photo gallery collecting photos of these fashions on dolls.
Rocker Fashions ©1985
[
]
Concert Tour Fashions ©1986
[
]
Additional Photos
[
]
Another Flickr photo gallery features photos of the foreign dolls out of the box.