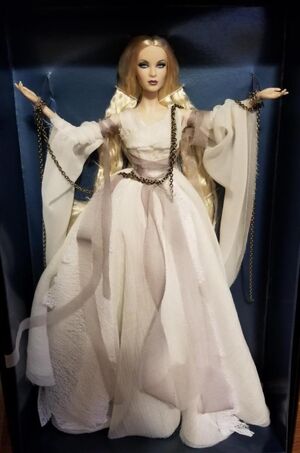 An ancient mansion sits beneath ink black skies. Midnight winds whisper through deserted rooms. Softly, the sound of clanging chains and supernatural murmurs rises and grows. From the darkness, an apparition appears, sheer and barely visible. Frightfully beautiful, she lives between this earthly life and an unknown world beyond. You are indeed fortunate that this sublime spirit has revealed herself to you! Haunted Beauty Ghost™ Barbie® doll wears an ethereal, off-white gown featuring fitted bodice, bell sleeves, and full skirt with tattered hem. A silvery earthly chain wraps around her body. Her long, pale platinum hair and dramatic face paint take her far beyond the paranormal to extraordinary!
Product Number
Edit
W7819
Gold Label
Release Date
Edit
10/11/2012
Collection
Edit
Haunted Beauty
Bill Greening

Community content is available under
CC-BY-SA
unless otherwise noted.