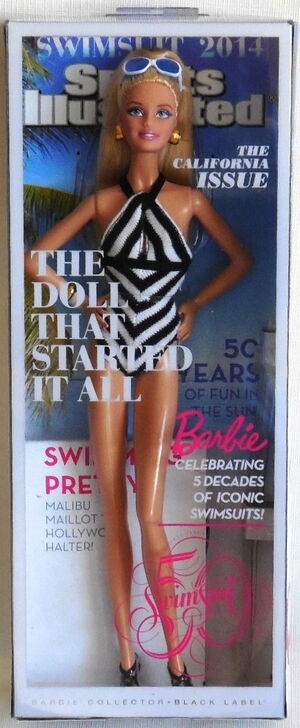 Barbie® made quite a splash at her March 9, 1959 premiere. Sporting her trademark blonde ponytail and eye-popping black and white bathing suit, she is "the doll that started it all". Always a snapshot of style in-the-moment, Barbie® gives girls of all ages a guide to glam, a license to dream, and a way to make a personal fashion statement. Now, Sports Illustrated celebrates the iconic status of Barbie® and her zebra-striped suit in their 50th Anniversary "Legends" issue. Sport Illustrated Barbie® doll poses in her original 1959 "original fashion model" suit and other iconic bathing suits, culminating in this 2014 reinterpretation of one of her all-time most famous looks! From her very first Malibu maillot to this updated Hollywood halter, Barbie® remains always in the swim!
BCP84
Black Label
2/18/2014
Robert Best

Community content is available under
CC-BY-SA
unless otherwise noted.