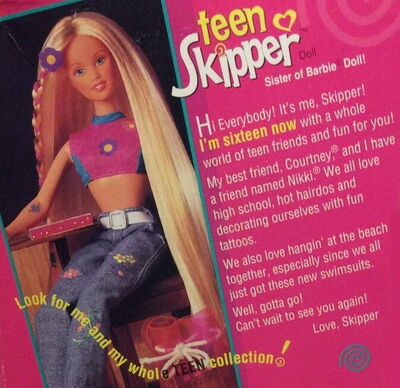 Dolls | Fashions | Accessories | Media | Gallery

Skipper was introduced in 1963 as the little sister of Barbie®. Teen Skipper debuted in 1997 with both head and body marked ©1995. The head mold was used for Skipper and Barbie's friend Becky through 2010, as well as in the Happy Family and Fashion Fever lines. Since 2010, it has occasionally appeared in the Barbie® Collector line. See fashiondollz.de for lots of great close-up photos.
1997
[
]
1998
[
]
KB Toys later sold a modified version of the Cool Sitter dolls with two babies instead of four.
1999
[
]
Promotional material for the Totally Yo-Yo dolls included a never-produced male doll, Zach. KB Toys later sold a modified version of the Pajama Fun dolls without the sleeping bag, pillow, or slippers.
2000
[
]
In an unusual omission, the swimsuit doll line for this year, Surf City, did not include Skipper. She would return for the following two years.
2001
[
]
The Palm Beach doll line had painted bikini tops and bottoms for all female dolls except Skipper, who has a painted top only.
2002
[
]
2003
[
]
2009-2010
[
]
Skipper made a return after a long absence and reverted to a younger age. Two releases used the Teen Skipper head on a shorter body before a new head was introduced in 2010 (see fashiondollz.de again).
Same-sized Dolls
[
]
During the production of Teen Skipper, these dolls were released using the same body.
Dolls | Fashions | Accessories | Media | Gallery