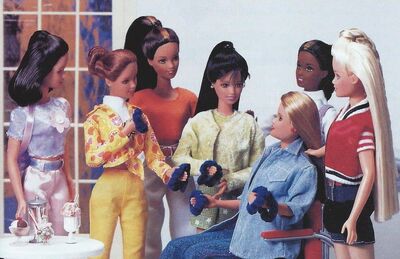 Dolls | Fashions | Accessories | Media | Gallery

In the late 1990s, the Barbie & Friends Book Club by Grolier featured current dolls in photo illustrations. My criteria for including a book here requires Skipper or another character using the Teen Skipper head mold to be a main character in the story and appear in at least five photos.
Besides Skipper, Courtney, Nikki, and Becky, three additional dolls play at least two characters each:
Skipper's Babysitting Blues
[
]
Skipper watches her younger sisters while Barbie and Ken attend a party. The resulting chaos culminates in the sitcom cliche of too much soap in the washing machine.
Skipping a Beat
[
]
Skipper's band Velvet Groove has landed a great gig, but her bandmates Drew, Ron, and Cara hate the costumes that Courtney designed. On top of that, Skipper has a crush on Drew.
Three Cheers for Becky
[
]
Becky is introduced as the new coach of Skipper's cheerleading squad. Amy is nervous about being the top of the pyramid. Other cheerleaders include Courtney, Nikki, Melissa, and Emma.
The Lucky Skates
[
]
Barbie's coaching job takes her to France for a skating competition. Allie loses her confidence when she misplaces her favorite skates. Nikki has a cameo as an unnamed Australian skater. (A photo of Allie that once circulated online raised false hopes of an Asian friend for Skipper.)
A Change of Direction
[
]
Barbie is a film director now. Skipper lands a role in her latest movie but soon discovers that acting is not where her passion lies.
The Clue in the Haunted Library
[
]
Barbie's ever-changing career path lands on Broadway producer. She and her assistant Wendy are researching period costumes when they stumble upon a mystery.
Miscellaneous
[
]
These books don't meet my criteria but do include an appearance by Skipper or one of her friends.
Dolls | Fashions | Accessories | Media | Gallery